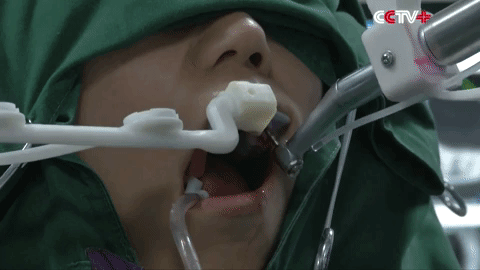 My clinical team and our doctors have always quipped that dentistry would likely survive the coming age of robotic automation as an increasing number of traditional roles become obsolete. However, technological advancements in AI does not have any prejudices for industries to disrupt. In Dentistry, doctors in China have been able to use robots to successfully implant two 3d printed teeth into a very brave or an incredibly well compensated, 1st live patient. The procedure was only human assisted in the initial step – to position the patient within the head  vice, and then to program the precise measurements and movements of the robot. This technological advancement should help democratize access to high quality options for a greater number of the population as future developments in AI and robotics continue to evolve.
Presently at Georgian Dental®, our Clinical Professionals have been 3D printing teeth to replace worn or damaged crowns as well as to replace missing teeth – all within a tenth of the time it used to take using traditional methods. The present stage of evolution for replacement of missing teeth however is still limited to computer guided 3d imagery and surgery planning. 3D imaging in dentistry, is known as Cone Beam Computed Tomography (CBCT). The brilliance of this is the use of the data from CBCT scans in the use of computer guided virtual planning of dental implant surgery.
However, knowing the surgical complication and then actually reacting to an 'unplanned' complication will require a tremendous magnitude of improvement in AI. "Responsive AI" will have to be at a point intelligent enough to creatively fabricate a response to a situation that it has never encountered before. Present iterations of surgical AI are very good at dealing with a preprogrammed situation and then reacting with utmost precision, but, what happens if the dental drill breaks, or the act of inserting the implant causes the surrounding bone to shear and splinter? Our surgical team has encountered those types of misadventures and responded with train precision and ingenuity to complete the surgery. Backup drills are hooked up or a new implant site is selected 'on-the-fly' based on years of knowledge and experience.
Human ingenuity is still far from being replicated by AI – the day may eventually come of course. In the meantime, Georgian Dental® provides holistic dental care for whole body health that nourishes and uplifts the human spirit. If you're located in Barrie, contact the humans at Georgian Dental® Barrie by calling (705) 739-6725 – no mechanical or programming  malfunctions guaranteed, and we'll help you Get Your Smile In Style!READY TO GET THE SMILE YOU ALWAYS WANTED?
Free Consultations
Free consults for braces, implants, bridges & crowns, gum recession and full mouth reconstructions ($300 Value). Call now and book your appointment!
705-710-2525
Free Initial Consultation
Free consultations for all braces, implants, bridges & crowns, gum recession and full mouth reconstructions ($300 Value). Contact us now for all the details.
705-710-2525